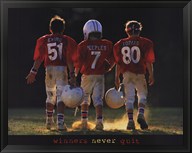 "Winners never quit."
Sports
Wall Art To Inspire



Enjoy these sports quotes from John Robert Wooden, an American basketball player.
Never mistake activity for achievement.

Ability is a poor man's wealth.

Be prepared and be honest.

Failure is not fatal, but failure to change might be.

Don't measure yourself by what you have accomplished, but by what you should have accomplished with your ability.



Be inspired by the words of Tommy Lasorda, an American Baseball Player and Coach
The difference between the impossible and the possible lies in a man's determination.

Pressure is a word that is misused in our vocabulary. When you start thinking of pressure, it's because you've started to think of failure.

I believe managing is like holding a dove in your hand. If you hold it too tightly you kill it, but if you hold it too loosely, you lose it.

I motivate players through communication, being honest with them, having them respect and appreciate your ability and your help.

About the only problem with success is that it does not teach you how to deal with failure.

There are three types of baseball players: those who make it happen, those who watch it happen, and those who wonder what happens.



"I hated every minute of training, but I said, ''Don't quit. Suffer now and live the rest of your life as a champion.''
~ Mahummad Ali

"Champions aren't made in the gyms. Champions are made from something they have deep inside them - a desire, a dream, a vision."
~ Mahummad Ali

"We must all suffer one of two things: the pain of discipline or the pain of regret or disappointment."
~ Jim Rohn

"If you don't have confidence, you'll always find a way not to win."
~ Carl Lewis

"Obstacles are those frightening things that become visible when we take our eyes off our goals."
~ Henry Ford

"When they treat you bad, you just got to take care of your pride, no matter what."
~ Satchel Paige

"The price of success is hard work, dedication to the job at hand, and the determination that whether we win or lose, we have applied the best of ourselves to the task at hand. "
~ Vince Lombardi

"Never let the fear of striking out get in your way."
~ Babe Ruth

"Do not let what you cannot do interfere with what you can do."
~ John Wooden

Don't look back. Something might be gaining on you.
~ Satchel Paige

The game isn't over till it's over.
~ Yogi Berra

The way a team plays as a whole determines its success. You may have the greatest bunch of individual stars in the world, but if they don't play together, the club wont be worth a dime.
~ Babe Ruth

Adversity cause some men to break; others to break records.
~ William A. Ward

In life as in a football game, the principle to follow is: Hit the line hard.
~ Theodore Roosevelt

Ninety percent of the game is half mental.
~ Yogi Berra

You have to expect things of yourself before you can do them.
~ Michael Jordan

The difference between a successful person and others is not a lack of strength, not a lack of knowledge, but rather a lack of will.
~ Vince Lombardi

It's lack of faith that makes people afraid of meeting challenges, and I believed in myself.
~ Mahummad Ali

I always believe in going hard at everything, whether it is Latin or mathematics, boxing or football, but at the same time I want to keep the sense of proportion. It is never worth while to absolutely exhaust one's self or to take big chances unless for an adequate object. I want you to keep in training the faculties which would make you, if the need arose, able to put your last ounce of pluck and strength into a contest. But I do not want you to squander these qualities.
~ Theodore Roosevelt

How you respond to the challenge in the second half will determine what you become after the game, whether you are a winner or a loser.
~ Lou Holtz

The man who complains about the way the ball bounces is likely the one who dropped it.
~ Lou Holtz

Besides pride, loyalty, discipline, heart, and mind, confidence is the key to all the locks.
~ Joe Paterno

The will to win is important, but the will to prepare is vital.
~ Joe Paterno

My attitude is that if you push me towards something that you think is a weakness, then I will turn that perceived weakness into a strength.
~ Michael Jordan

Commitment to the team - there is no such thing as in-between, you are either in our out. Being ready isn't enough; you have to be prepared for a promotion or any other significant change.
~ Pat Riley

If you watch a game, it's fun. If you play it, it's recreation. If you work at it, it's golf.
~ Bob Hope